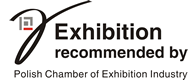 20.11.2017
Instal Project becomes an exhibitor at the INSTALACJE Fair.
03.11.2017
Bosch Thermotechnik has joined the exhibitors at INSTALACJE Fair.
31.10.2017
Viessmann, Beretta, Bosch, Junkers, De Dietrich, Purmo, Zehnder, Grundfos, TECE, LFP, Wolf – these are just some exhibitors of the upcoming edition of the INSTALACJE Fair. Half a year before the event, the majority of space in the halls has already been sold or booked.
More news
---

International Trade Fair of Instalations
.