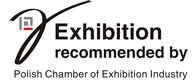 14.05.2018
Over four days, the group of trade shows including INSTALACJE, SECUREX, SAWO, GREENPOWER and EXPOPOWER managed to attract crowds of visitors.
17.04.2018
Look at novelties prepared for the fair!
27.03.2018
Bathroom PRO is a new event at the INSTALACJE trade fair!
27.03.2018
Discover the HYBRID POWER together with us! Special workshop: combining energy-saving systems!
27.03.2018
The final of the Polish Installers Championship (MPI) will take place during the INSTALACJE trade fair in Poznań, where the finalists will compete for the main prize - the new Citroen Berlingo commercial vehicle.
27.03.2018
Conference by the Wielkopolska Regional Chamber of Construction Engineers
27.03.2018
The PORT PC Conference "Future standards in the heating technology", led by top specialists in the field of heat pumps and hydraulic balance, will take place on 24th April 2018 during the INSTALACJE 2018 trade show.
27.03.2018
It is said that a good action film is about fast cars, constant challenges and beautiful women - that's why this year's agenda for the Installer Club will be based on those three basic elements that create a world of men entertainment.